FUCKERS
That was my response to anyone who asked me how I felt about the players and the owners during the lockout. Even when it was announced that the lockout was over, for real this time, I was still apathetic, if not somewhat ticked off that some great AHL** & ECHL hockey would be impacted.

**see Houston Aeros' fall from grace at precisely the moment their top players went back to the NHL

. This would eat into my college hockey (Go Gophers!, suck it, Heatley). Maybe I wouldn't jump right back into the NHL hockey scene. Maybe I'd 'show them' by not acting like a puck starved addict who needs her fix, in a bad way. Yep, that would teach them, huh? That would show them who's in control, right?
I was doing fine with it too. That is until the Wild decided to hold an open scrimmage for season ticket holders and the public. Said scrimmage would not only include our newest Wild players but also include our top prospects from Houston. The the Wild then reeled me in with the schmaltzy but oh so successful marketing ploy: "But wait, there's more!" The scrimmage was to be broadcast on television, giving me a visual on just how much I've missed my team, the arena and being a part of it all with Vicki. My icy exterior was beginning to thaw a little. Condensation was beginning to build, especially when I tuned in to hear this -
Kills me every time I hear it and I'm not there in person, standing next to Vicki celebrating a goal.
Suck it up, Stand firm! You can do this, Dee. You have angry resolve on your side.
As if hearing the goal horn wasn't enough to start me on a downward spiral into hockey lovin' hell there were my other favorite sounds: skate blades carving up the ice, pucks rimming the boards and pinging off the posts. Bob Kurtz and Tom Reid were doing the play by play on the radio with the tv broadcasters on mute - because I will NEVER listen to Anthony LaPanta call a Wild game, EVER. Lord Stanley, I could almost smell the ice. And the boys. The boys were playing hockey. Heavy Sigh, Tugging of Heart Strings.
Okay, three days to recover from that until the home opener. I would collect myself and build my resolve back up. I was scheduled to work that night which was good, I told myself. I wouldn't be at home watching it live while chatting in real time with Vicki and friends. I can still be indignantly annoyed.
Home Opener came and I was at work, receiving numerous texts and tweets and pics of what was happening at the X. I was happy for all of my friends and hockey family members who were merrily making the pilgrimage back to worship at the temple of NHL. I just wasn't ready to join them. I was still being righteously apathetic. Too hip, too cool.
I
got home in time for the third period. Vicki was giddy about us watching 'together'. I was trying my best to be all 'meh' about it. One of the cameras panned the Wild bench and there was a player with a seriously stitched up nose. I asked Vicki who had been in the fight. She responded that there had been a fight earlier but no blood was shed. Moments later Bob Kurtz announced over the radio that I was looking at the result of a high stick incident Zenon Konopka had endured earlier in the game. Huh, he took enough stitches to look like a jig saw puzzle piece, or two, and still played out the rest of the game. I'm intrigued, but not giving it too much credence. I'm impervious to his show of fortitude but curious about him nonetheless.
The Wild signed
Zenon Konopka back in July, just before they blew the lid off the NHL and blew the collective minds of Wild fans everywhere by getting both Zach Parise and Ryan Suter to sign. Zenon is a center weighing in at just over 200 lbs and is six feet tall. He's a bona fide NHL tough guy with the PIMS to back his shit up. For those of you who are new to hockey lingo let me translate: Zenon has the most penalty minutes in the NHL since 2009-10. He's also a contributor on the ice, not to be summarily dismissed with the other league "Thugs". He's a believer in old time hockey and he's a guy who puts his team first, leaving all of his blood, sweat and tears out on the ice...literally sometimes.
So what? There are a number of players like that in the NHL and I don't go on and on about them. What's the big deal about this Konopla guy?
Let me show you: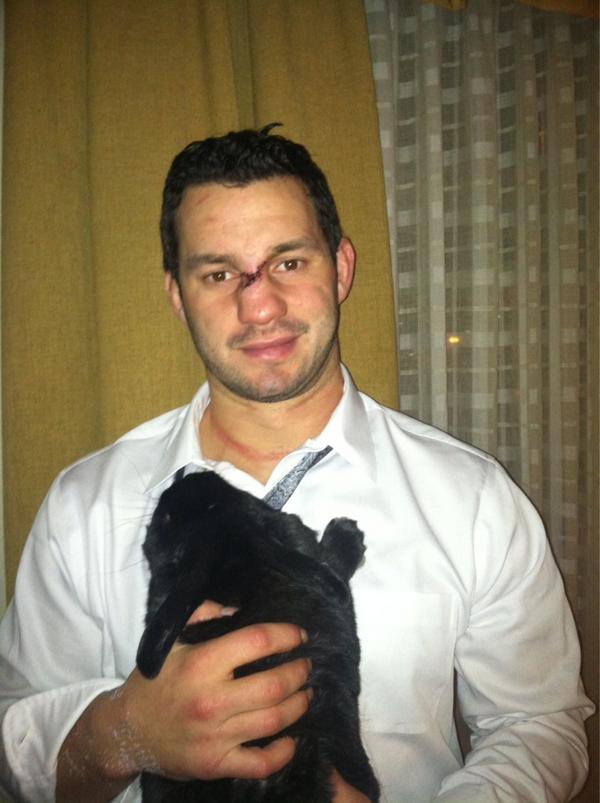 Never mind the fact that Zenon's nose is held together by 30 stitches. Never mind the fact that the guy took one for the team in his very first game wearing the Wild jersey. Look at what he's holding - his PET BUNNY! Zenon Konopka, NHL tough guy with 93 fights on his resume, has a friggin' pet rabbit...named appropriately enough, Hoppy.
My resolve to make the NHL/NHLPA pay for torturing my hockey soul absolutely vanished into thin air when Zenon tweeted this picture upon arriving home after the game. He is single handedly responsible for me turning into a puddle of hockey worshipping goo. Zenon has managed to vault, from complete obscurity, into the number three spot in my Hockey Stalking Hall of Fame. May Gordie Howe have mercy on my puck loving soul, I am totally committed to welcoming the Religion of the NHL back into my heart. All thanks to Zenon Konopka, his philosophies on life and his bunny.
You Had Me At Hoppy
I was asked what my favorite thing from Home Opener 2013 was. That's Easy:
Represent, Partner!